---
BOHNEN/TEUCHERT/ERVIN HISTORY
---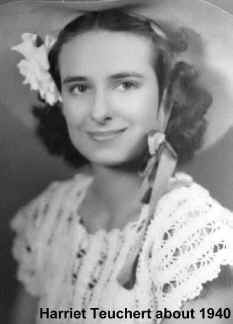 By Harriet Teuchert Ervin
2/24/94
Mamma was born ELIZABETH BOHNEN in Erie, PA in October, 1871. The four boys in the family got an education (St. John's College, musical training and art school). But Elizabeth was given only an eighth grade education which was the custom for girls in those days. One has to wonder how Maria Anna, well educated, refined and a former teacher, could allow this to happen to her only daughter. But Elizabeth accomplished a great deal, both businesswise and artistically. She worked and apprenticed in dressmaking and millinery in St. Cloud, Minn. when she was in her late teens. She told me that her final test in her millinery apprenticeship was to stitch a large wide-brimmed black velvet hat with white thread and that not one stitch could show.

Elizabeth was self educated after her eight formal grades of schooling. She was well read, both in English and German, from the classics in poetry and prose to Oscar Wild, Mark Twain, Damon Runyon, H. L. Menken, Hemingway, Steinbeck. She was always current on political and world news. We children grew up in an environment of music, fine art and literature and were influenced by her interest in world events. Mama practiced piano, daily, on the Raudenbush upright piano (which she purchased at the St. Paul Armory sale and which Marian inherited). Mama said it had the tone of a grand piano. A lifelong Democrat and a devout Catholic. She never proselytized. She was never prejudiced against any minority. Mama had a wonderful sense of humor and a hearty laugh. My mother, Elizabeth Bohnen, was a very giving, loving person and was never unkind. She was a wonderful mother and friend to me, always encouraging me and always proud of my accomplishments.
After Elizabeth finished her apprenticeship she became an artist with needle and thread. She designed and created beautiful one-of-a-kind hats for wealthy women in the style of the "gay nineties." Her creations of velvet, satin, velour and hand-blocked fur felts, adorned with ostrich plumes, egret feathers, handmade silk flowers, ribbons and lace were much in demand. She had a thriving business with a high-class clientele before she married my father.
Mama made it all happen with her unique method of promotion. She purchased season box seats at the opera and symphony. She loved music and she also loved being the advertisement for her exquisite chapeaux. On opening nights, her prominent box served as her "fashion display window" as she modeled her latest design. The elite women who eagerly looked up to her box from their orchestra seats studied her new creation. For many days after opening night, Mama and her employees were kept busy taking orders for her one-of-a-kind hats. Although her shop kept her busy, she also found time and energy to play leading soprano roles in operettas at The Shubert Club in St. Paul. No doubt this activity also helped to increase her already thriving business.
At some time during her youth, possibly in Meyers Grove, she suffered an infection from an abscessed tooth. No emergency dentist was available to prevent the abscess from causing infection in her blood which was the cause of her lifelong heart condition.
She was a beautiful young woman, tall (5' 8''), slender, with a tiny waist. At 25, Elizabeth was engaged to be married. She called off the engagement when she was told by the family doctor that she should not marry. "Because of her heart condition she would not live to see 30 and, if she became pregnant, she would die in child birth."
Elizabeth was thirty-one or thirty-two, (still very much alive, singing soprano roles in the St. Paul Shubert Club productions, managing her successful millinery business) when she bumped into a friend she hadn't seen in years. He knew her when she was engaged and thought she was now happily married. She told him what had happened. He worked for the New York Life Insurance Company. He told her to apply for a life insurance policy and if she passed the exam and was issued a policy, she could marry and have children. She was given a policy. When she died on February 14, 1940 of angina at age 68, she'd been able to have that policy all Paid up for a number of years.

Unfortunately, Elizabeth Bohnen married ARTHUR G. TEUCHERT (it was a good thing she did, if she hadn't, 21+ of her descendants including Harriet and myself would not exist!). He was the black sheep of his family. The rest of his family, German immigrants, were farmers down to earth and stable. Arthur was born in Berlin according to his brother Bruno. He preferred city life. He was only 5'7" or 5'8" but was handsome, muscular and well proportioned. He was a "turner" (gymnast), vain about his physique and his good looks. I remember when I was only four that he took a long time to groom himself. We would all be dressed and ready to go but we had to sit around for an hour waiting for our father to finish his grooming in the bathroom. He wore prescription glasses. Mama said! "It was because of an eye injury from a speck of steel while working for a steel mill in Alsace." He was an expert horseman. An old photo shows him astride a horse in a uniform - could have been while he was either in the German Army or in the Minnesota National Guard. Arthur G. Teuchert was 10 years younger than my mother but because his hair was gray she did not suspect that he was only 25 because he looked older. When he told her his age only shortly before they were to marry, she was shocked. She told her four brothers that she was going to call off the wedding. But they persuaded her that his age didn't matter. They thought him a fine, mature, upstanding man and would make a good husband and father. Besides, he had proved it by insisting on becoming a Catholic convert so that they could be married in the church although Mama had not asked him to convert. (Surely, four such handsome brothers could have introduced her to someone more eligible.) So she trusted in their male opinions and married Arthur. If she had listened to her inner voice perhaps she might have had a more enjoyable life as a career woman. She had many friends in St. Paul both in the business community and in the music business.
FREDERICK TEUCHERT (Fritz) was Elizabeth's first child, born December 5, 1907. She had just turned 36 in October of that year. Her daughter MARIAN ELIZABETH (Fritz couldn't say Marian so he called her Mamo, pronounced Maemo) was born seventeen months later on May 2, 1909. I was born December 19, 1917. My mother had just turned 46 in October. All of us were born at home. The doctor who delivered me was Dr. Harry Jenks. Marian and Fritz loved him so much they insisted I be named after him. If I'd had a choice, my first name would have been Elizabeth. I was baptized HARRIET ELIZABETH CHARLOTTE TEUCHERT. Elizabeth for my mother, Charlotte for Aunt Lottie. Mama wanted to make Lottie feel that she was an important member the family so she chose her to be my godmother and namesake. I can't remember Aunt Lottie ever taking any god motherly interest in me. When I was confirmed at 13! I added my confirmation name, Joan, (after St. Joan of Arc).
I refer now to Arthur's insensitivity regarding my mother. Having a new baby at age 46 (8 1/2 years after Marian's birth) could not have been easy. No doubt she experienced post partum depression. She also had to cope with a husband who was extravagant (at one time he owned a Stutz Bearcat), changed jobs frequently and was an adulterer. Another worry was that because of World War I. Marian and Fritz were being taunted at school for their German name and their ability to speak German (I didn't know they could speak German). Then at Christmas time, 1917 when I was only six days old, Mama and I almost went up in smoke. Lighted candles were traditional on Christmas trees. Mama was holding me and as she walked by the tree a candle tipped over and set her robe on fire. (Also, in between Marian's and my birth, Mama was devastated by her father's leg amputation and then not long after that, his death.) When I was only an infant, my father was driving the family to the Teuchert farm. Mama was sitting in the back seat holding me on her lap. He drove very fast and she begged him to slow down. He hit a bump in the road so hard that it raised her off of the seat and because she was protecting me from being injured, she hit the wooden cross beam which held up the canvas car top and broke her nose. When I was about 4 1/2 (our parents had just separated) Marian, Fritz, Mama and I went to Lake Como for the 4th of July, renting a cottage by the lake. In the middle of the night a firecracker landed on the roof and set the flimsy wood cottage on fire. Everyone scrambled to get outdoors except me. I was sound asleep in a back room. When Mama saw I wasn't with them, she rushed back into the burning cottage and rescued me, singeing her hair and her eyebrows. When my father was involved with the Pease woman and before being convicted of embezzlement, he invited my mother and me to go for a drive. I remember getting into the front seat with him and then seeing Miss Pease and her mother sitting in the back seat of the car. Mama, of course, refused to go with them and she took me back into the house. Arthur Teuchert was an arrogant, selfish, cruel man. Elizabeth Bohnen had damn good reason to weep, and to let the housework go.
I don't remember Mama being sloppy. The house was always neat. Mama made curtains, drapes and slipcovers for the houses we lived in. We had Oriental rugs which she purchased at a bargain price from the National Guard Armory. (Marian inherited our red Oriental and she used it in the dining room at her Alsace house.) Mama had a talent for furnishing our homes with quality items she found in second-hand furniture stores and auctions. We were living in a Depression even before the great Depression with no modern appliances (no refrigerator, just an ice box until 1940). But Mama kept us clean. well-dressed, comfortable, healthy and well fed.
Mama made all of her clothes and ours. she saved the materials from her gorgeous "gay nineties" gowns, coats and suits and cut them up and made new dresses, coats, jackets for us kids. I have a picture of me in the lovely plaid woolen coat made from one of the skirts she wore in the '90s. Its fur collar had been hers. When I was in high school she created beautiful knitted and crocheted dresses and sweaters for me. She also knew how to do tatting, a delicate and difficult craft, and made lovely lace collars, doilies and lace edges for table cloths an napkins. Her hands were never idle. She was also an excellent cook. Her roasts, stews, breads, pies and apple kuchen were out of this world. She never followed a recipe. I couldn't learn to cook from her because her measurements weren't in spoonful or cupful. She just automatically knew the portions to use without measuring.
Because of the troubles with my father, Uncle John persuaded my mother to move to California and assured her that he would help us financially so that Marian and Fritz could finish high school. They were in the 10th and 11th grades. Uncle John's second wife Betty was a holy terror. She hurled knives and plates at Uncle John when she got mad at him. She made him renege on his promise. Our father reneged on child support. It wasn't long before Marian and Fritz had to drop out of high school at 15 and 16. Mama was 52 with high blood pressure, overweight from water retention and taking digitalis for her heart condition. She also suffered spells of vertigo. Mama could not go to work. She regretted moving to California and was devastated about her kids having to quit high school. If she had stayed in St. Paul, despite the bad publicity about our father, there would have been many friends to help her. Mama had supported the Bohnen brothers when they needed her, but the Bohnen brothers wouldn't help her when she needed them.
Marian worked as a sales clerk in the May Company basement and then Switzers, an exclusive dress shop, where she waited on Greta Garbo (who caused quite a commotion with the store manager and his clientele by trying on expensive gowns sans underwear). Uncle John found Fritz a dish washing job in a greasy spoon cafe. But Marian and Fritz were too smart to be kept down for long. They both went to night school, learning skills that would help them to get better jobs. Marian became expert with shorthand and typing and found a job as a legal secretary to a Spring St. lawyer named Shaeffer. Both he and his wife were very kind to us. One of the firm's clients convinced the family to pronounce Teuchert - Tooshay. (The kids in school had been calling me "Harriet Toilet.") The true French pronunciation was Tooshare, but Tooshay stuck and nobody ever mispronounced or misspelled our name after being told just once how to say and spell it. (When Fritz was Claims Agent at the dock the stevedores called him two-shirts.)
As a teen-ager, Marian became an expert backstroke swimmer and competed in several swimming meets. She also swam exhibition backstroke at the Hollywood Athletic Club. On summer weekends she and I would walk from our Mayview Dr. duplex to the Griffith Park Swimming Pool, a distance of a couple of miles. We'd bring a sandwich into our lockers, swim all day, leave the pool around 4 p.m., eat our sandwich on the lawn, then walk all the way home. When I was ten, Marian taught me the Australian crawl and the proper way to breathe while swimming. Marian began taking me when I was seven to plays, the ballet and symphony concerts in L.A. and Hollywood. Marian was a fine classical pianist. Her special was Bach.
Marian made a career leap from legal secretary to the movie business. She landed a job at MGM Motion Picture Studios in Culver City. She worked in the steno pool and was assigned to writers, actors and directors such as author Gene Fowler ("Good Night Sweet Prince"), Eric Von Stroheim, and many other famous movie people. She even ghostwrote most of a script for a screen writer for a movie that was to star Jeannette McDonald and Nelson Eddy. Some production problems developed and the project was shelved. While working for Von Stroheim, noted for his lechery, he chased her around and around his desk. She aimed a letter opener at him, not hurting him but distracting him enough to let her escape from his office. While Marian worked at MGM I lunched with her in the studio commissary. I was 18 and quite excited about being in the same room with Clark Gable, Norma Shearer, Bruce Cabot, and Mickey Rooney who was a holy terror on the MGM lot.
Fritz played tennis. He was embarrassed to go swimming with us because he was so skinny and chilled easily. With tennis he developed powerful muscles in his arms, legs and chest. By the time he was 24 he was in such good shape that he became an excellent ocean swimmer. He taught me how to dive under the ten-foot waves at Will Rogers State Beach (now called Santa Monica State Beach), get beyond the breakers and then swim to the rafts that were stationed along the coast from the Santa Monica Beach Club, the Marian Davies/Randolph Hearst house, on down to the Santa Monica Del Mar Club. Fritz was handsome, sexy and the women were crazy about him. He teased me at home and made me mad but when he took me to church dances and night clubs when I was a teenager, he was wonderful to me. (He taught me ballroom dancing when I was 10.) Fritz had the talent to be a fine artist He studied life drawing at night school but his focus had to be on supporting our family.
Fritz made his career leap from greasy-spoon dishwasher to General Steamship Corporation, Los Angeles, starting at the bottom rung as office boy. He moved up the ladder pretty fast and within a couple of years he became Claims Agent and not too long after that he became Chief Claims Agent with dockside offices in Wilmington at Los Angeles Harbor. I worked for my brother during school summers when his secretary was on vacation. I enjoyed seeing the merchant ships unloading cargo, some of it exotic, like the anteater that was unloaded so close to our office window I could almost touch it. (Fritz brought home a parade of eligible merchant seaman for me to meet). In 1941 Fritz's steamship experience paid off. It was worth more to the Army than a college degree. He was accepted for Officer's Training and rose from 2nd Lieutenant to the rank of Major. Transporting healthy young soldiers to the Pacific and then having to transport them home maimed, dead, took its toll on Fritz. After the war he was hospitalized with what is now known as post-traumatic shock. When released from the hospital, he was hired by the American (California?) Trucking Association as their Public relations Representative. With the kind of pain Fritz experienced in his life, it's no wonder he turned to alcohol. He was only 54 when he killed himself.
An early tragedy in Fritz's life probably influenced his attitude toward women. When he was 21 he met a beautiful girl from St. Paul who was visiting mutual friends of ours in Hollywood. Her name was Marion. They were a perfect match. She was charming, intelligent. We all liked her. Fritz fell in love. But she had to return to St. Paul and college. She was the daughter of a wealthy insurance company executive who was very catholic and very strict. While Marion was corresponding with Fritz and making a date to see him the following summer in Los Angeles again, she got involved with a young man of dubious character and became pregnant. She was about 3 months pregnant when she arrived that following summer but it didn't show. She and Fritz had a marvelous time together, painting the town and taking a day trip to Catalina. He didn't know about her affair and her pregnancy until she wrote to him after she got back to St. Paul. It was a "shotgun" wedding. She divorced the cad after her second child was born. She came to see Fritz in the summers and then moved to California when her father died. They stayed friends but by that time he could take her or leave her.
The schools I attended in Los Angeles were Micheltorena on Sunset Blvd., Thomas Star King Jr. High (both in East Hollywood); Virgil Jr. High on South Vermont, L. A. and Fairfax High, Melrose at Fairfax, Hollywood. I went to the first two schools when we lived with Uncle John and at two locations on Fernwood near Hyperion and then on a hill at 1918 Mayview Drive (near Los Feliz Blvd, not too far from the Walt Disney Studios and a yo yo factory). All three residences were opposite Moreno Highlands which my friends and I explored for wildflowers in spring and in summer for illegal wading in the reservoir situated at the top of the Highlands. The silent screen star, Antonio Moreno, owned the hill and gave it his name. He lived in a huge Spanish style castle at the top of his hill. When I was 7, 8 and 9 my chums and I would sneak around the Moreno estate, trying to get a glimpse of the living room. We lived there for four years. enjoyed watching cowboy star Tom Mix ride up and down the hill as he was being filmed in his shoot-em-up cowboy movies. We kids stood on the sidelines while the old-fashioned movie cameras were cranking. Not far from our East Hollywood residences "Our Gang" comedies were sometimes filmed on local streets. My friends and I watched Spanky and the others doing scenes from their comedies on De Longpre Ave. near Sunset and Vermont.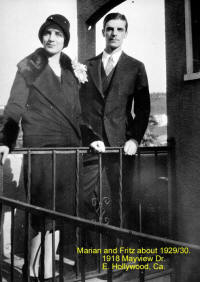 Our home at 1918 Mayview Drive (Photo taken 2006) was on the top floor of a duplex, new and modern for 1926 but it had only one bedroom and one bath.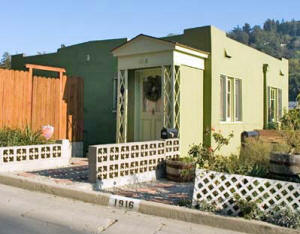 Mama, Marian and I slept in the large bedroom. Fritz slept in the Murphy bed in the large, long living room. The kitchen, had a soapstone sink counter and a cozy built-in booth for four. Mama decorated the apartment with her usual expertise. We felt we had really come up in the world (literally and figuratively) because our three other houses were so old (with wooden sink counters) and this one was so bright and new. The duplex was built on the side of a hill and we could see Moreno Highlands straight across from our big windows at the far end of the living room. We lived there for four years. Mama loved it and Joked about "hanging from our eyebrows on the hill."
Because we had only one bathroom, Marian and Fritz fought over whose turn it was to bathe first before going to work. One morning Marian filled the tub but had to step out of the bathroom for a minute. Fritz dashed in, locked the door and took his bath. When he came out Marian was waiting for him, mad as hell. Their fight wound up in the living room in front of the Murphy bed which Fritz had not yet put back in its closet. Mama came running out of the bedroom partially dressed in her cotton slip and modified version of pantaloons. She rushed down the hall to the living room to prevent mayhem. She tried to separate the two warring siblings who were swinging at each other. Her interference put all three off balance. They fell in a heap on top of the Murphy bed which collapsed under them with a loud crash. The downstairs neighbor came running upstairs to see if anyone had been injured or maybe killed because she had heard all the yelling. screaming, crashing and thrashing about. When she got to the door all she could hear was convulsive laughter. They all were so tangled up in the bedclothes that they couldn't extricate themselves. The more they tried the more helpless they became with their laughter. So I, 10 at the time and unable to be of any help, let our neighbor in so she wouldn't call the police.
I forgot to mention that our first house was on Hyperion when we arrived in California. Uncle John and aunt Betty were living there at the time. We lived with them until Uncle John's large duplex on the hillside was completed. We couldn't afford the rent so we had to move out when Uncle John and Betty moved. Our second house was only a few blocks away on Fernwood, situated on very low ground. Our yard got swamped during the rainy season. I can remember all of us rolling up Mama's precious Oriental rugs to protect them from the water that flooded the front yard and came up to the front door. One rainy day the front and back yard were both flooded and we saw the stray cat that only a few days before had sneaked into our screened back porch and gave birth to four kittens in an open trunk full of blankets. She was standing on top of a mound of dirt surrounded by water. Three kittens clung to her back while she held in her mouth the fourth kitten by the nape of its neck. Later on after the kittens were about a couple of months old, I found the mother cat in a thicket behind our house devouring my favorite little kitten which had walked around the neighborhood with me like a pet puppy. (A ghastly heartbreaking sight for a 7-year-old to see.) I have had an aversion to adult cats ever since. I can also remember my playmate from across the street and my horror and grief at finding out that she and her family had not just moved away but had been murdered by her father. Mama found our third house rather soon after those experiences. It was at the other end of the block on Fernwood on a hill. We had to climb four flights of wooden steps to reach the front door. Uncle Nick came to visit, bringing boxes of Milky Way candy bars. His company, Funke-Bohnen, was the sole distributor at the time and introduced the Milky Way to the world. We lived there for 2 years until Mama found the Mayview Drive duplex.
In 1930 we moved to a charming California cottage on North Serrano Avenue, close to Melrose and Western and near Paramount and RK0 picture studios. I was in the 8th grade and traveled by street car to Virgil Junior High School on So. Vermont. It wasn't as nice as Thomas Star King where I had attended 7th grade and I had a little difficulty adjusting. After graduating from Virgil's 9th, I started 10th at Fairfax High School. I was President of the Girls League (girls student body) in my senior year, sang in the Glee Club's Senior extravaganza with exerts from the operetta "The Student Prince." I wore a sequin and black net evening gown that had been Mama's. I was also class valedictorian when I graduated in February, 1936. I wanted very much to to go to college but our circumstances prevented it. I felt that I needed to repay Marian and Fritz for all their years of being the breadwinners for the family by contributing, as they did, all my earnings to the family pool of wages that Mama managed so proficiently. I did attend night classes in life drawing at Los Angeles City College and brushed up on shorthand at night at Los Angeles High School as well as typing and Dictaphone practice at the Dictaphone Company's training center in downtown L.A.
But before my graduation we moved to 123 North Gramercy Place in January, 1935, the nicest house of them all. It was a large California cottage, three bedrooms. French-windowed sun room, large sunny breakfast room, large kitchen with tile sink counter, our first, modern bath with tub and shower, large dining room adjacent to the large living room with a flat wood-beamed ceiling and a beautiful fireplace. The living and dining room walls were covered with canvas rather than wallpaper. The Goodno family lived next door. When we first arrived, I chatted with Bob Goodno over the back fence. He invited me to the Biltmore Bowl for a dinner dance. I was only 17 but there were no restrictions those days about alcohol. He ordered me a Pink Lady (slow gin fizz) and we had a lovely dinner and danced to the music of Ted Fiorito. He realized that I was too young for him. He and Marian liked each other so Bob would come over to visit Marian. They had a lot in common and they started dating.
Marian was working in MGM's casting office when she and Bob Married in September, 1935. They found an apartment a few blocks away on South Gramercy Place. Dennis was born at St. Vincent's Hospital, Los Angeles at the time that Marian and Bob were living in the apartment. Della, the Goodno housekeeper, a big, wonderful black woman, took care of Marian and baby Dennis for two weeks while Marian was recuperating. When Bob's mother died, Della helped my mother part time.
I had been working as a secretary since June. 1936 with the fabulous salary of $25.00 per week (35 hours a week) at Electrical Research Products. Inc., a subsidiary of AT&T, located at Hollywood Blvd. and La Brea, directly across from the famous Hollywood Hotel. ERPI sold and serviced Western Electric Sound equipment in all the movie studios and theatres in Southern California. Lew Ayers and Ginger Rogers played tennis at the hotel and then lunched, just a couple of stools from me, at the drug store lunch counter that was on the main floor of our office building. Like Marian, I also was sexually harassed at work. A man about 45 who had a neighboring office on our floor borrowed my dictionary but didn't return it. I went to his office to retrieve it. He chased me around and around his desk. I grabbed the ink bottle which was open on his desk (no ball-point pens in those days) and threw it at him. He was wearing a white Palm Beach suit and the black ink splashed all over it. I grabbed my dictionary and ran. I imagine he had a hard time explaining his ruined suit to his wife. He never came near me again
. By January, 1938 the Depression was so bad that AT&T closed down ERPI and I was out of a job. Mama, Fritz and I had to move two doors down from 123 North Gramercy (113 ?,Probably 111, next door to 117) I believe it was owned by the Goodnos and we rented it at a much lower rate than 123. It was not as nice but Mama made it look cozy and cheerful. (She found a beautiful sofa at auction for $3.00.) This move was necessary because one of the family breadwinners had married. It was Fritz, Mama and me now and we were still in the Great Depression. My former boss at ERPI who also lost his job recommended me to The New York Life Insurance Company in downtown Los Angeles. I was hired by the Inspection Department whose inspector/detectives checked up on disability claimants to see if they were fudging on their claims. Filing and typing insurance inspectors' reports was quite a comedown from being the Secretary to the Comptroller of ERPI and the salary was only $75.00 per month, 6 1/2 days a week. We lived here until the end of February, 1940.
Mama's heart got worse and worse. I stayed home from work for a week until we could find a practical day nurse. I had explained to my boss that my mother was dieing, necessitating my taking a week off without pay. But he couldn't care less. He fired me on the spot. I didn't want to be a burden. I didn't want to upset Mama. So for ten days I left the house every morning when the nurse arrived and pounded the pavements looking for work, letting Mama think I was going to my job. Fritz had been out of town. When he returned, I told him what had happened. He was very kind. He told me to stay home and take care of Mama. We let the nurse go. Uncle Al came to help. He relieved me when I needed to rest. However, I was alone in the house with Mama the night she died in her sleep. I was sleeping, too exhausted to know that she was gone until the next morning, St. Valentine's Day, 1940. She had a peaceful expression, a hint of a smile. She had been deteriorating slowly for about three weeks but had seen to it that all her affairs were in order, sending me to the bank to put my name on her account so that I could write checks to pay the bills. I've always thought that Mama willed her way out of this world because she didn't want to become a burden. See must have felt that she was up against a wall with no way out of her dilemma. There was no Social Security, no welfare agency, nobody who could help. The Depression was still with us. Fritz was 32. I was 22. I think that Mama talked to God about her problem and prayed that she be taken from this world, not only for her sake but for the sake of her children. I think that she would have lived longer if our financial circumstances had been different.
Harriet Ervin died April 16th 2009 at age 91 Harriet's Obituary
---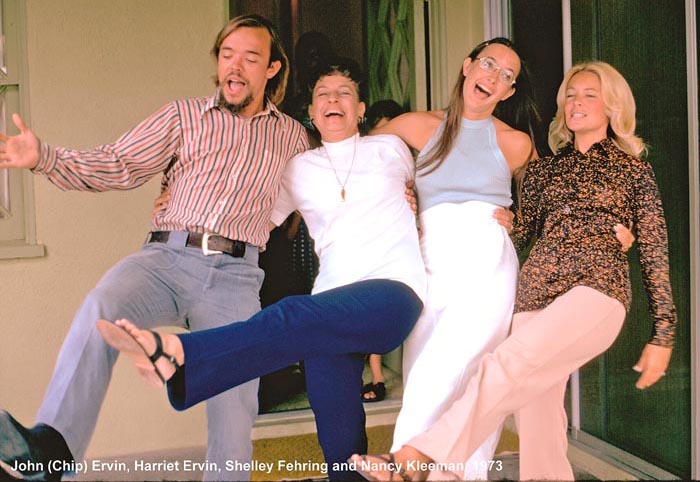 ---
For Harriet
April is a good month to leave the earth,
Wrapped in color and sweetness –
Beauty that will hold you to us
And the life that will not forget you.
Memory is a golden thread
That holds us all together
And so I bind myself to you
With your own memories and with mine.
*********************************************
A blue Ford station wagon
Packed with children, heading for the beach –
Rocks and shells in a Laguna cove
And waves that reached to heaven
Laughter from another room
As I slept in your house
Real laughter that rocked your body,
Filling my dark night with color
So in laughter and the sea
I remember still your many stories
As I gaze past the foamy white
Of waves on your well-loved jetty.
Strolling down the streets of Brussels
Or sitting in a bar in Edinburgh
Your open eyes and fearless heart
Drew people toward you
Open to the world, it opened itself to you –
With lights that led you, listening,
Down the winter streets of Paris
To a cathedral filled with music.
Adventures called you by your name –
Were you almost sold to slavery
By a dastardly Turk with coal-black eyes
Splashed across his face like cockroaches?
Did you sleep on trains next to strangers?
Did you walk through towns
That have since lost their names
Because you are not here to speak them?
Did you ever, on those winter days,
Think back to the places of your life?
Cold Minnesota, warm California
Massachusetts and Thoreau's Walden Pond.
Everywhere gathering people together
With your smile, your laughter, your voice –
UNICEF, radio, art, and music
All smiled at your loving touch.
**************************************
Spin your threads, O memory –
Wrap her in your scented arms
Until the sad and bitter thoughts
Are long forgotten.
Spin your threads, O memory –
Until the tapestry of her life
Weaves itself at length
In threads of gold.
Daughter, sister, mother, aunt
Both young and old, in illness and in beauty
Cradled in that winter music
Warmed again by trust and love
Through youth, through age
Through sadness and through joy
Through love and through color
Remember the beauty of your life
As it remembers you.
Christine Meyer (Harriet's niece)
---
My email: dennis.goodno@gmail.com