Houses
---
Some believe that the ghosts of the dead (and living) may inhabit old houses. I don't know about that, but certainly the ghosts of the houses and what transpired in them can haunt one's memories.
(I took the following four photographs in December 1993).
---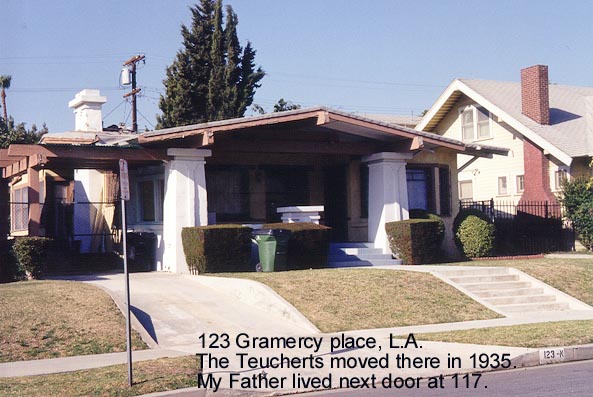 123 North Gramercy Place, Los Angeles, Ca. (1935-?). The address was on a letter written by my grandmother to her brother Carl, March 7, 1935. She and her family had recently moved there. This is the house where my mother met my father who lived next door (117, since the 1920 census) they were married in September 1935.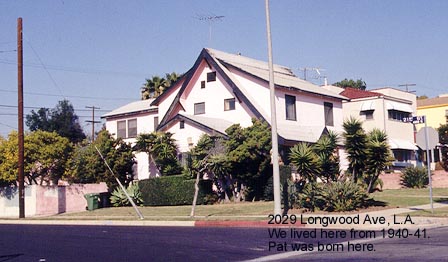 2029 Longwood ave., Los Angeles, Ca. (1940-1941). My first remembrances of this house was when my parents brought home my sister Pat from the hospital in July 1940 (I was 3). She was on my mother's lap in the front seat of the car (no child seats or seat belts in those days!). I remember my aunt Harriet falling down the stairs with the vacuum cleaner once (I thought this was very funny!). The house was at the bottom of a hill on the corner of Longwood and 21st Street. I remember my parents talking about it being a dangerous intersection (no stop signs). There was an auto accident there once where a car had turned over and the driver was hurt. My mother had the man wait in our house until the ambulance came. I was playing with a cardboard doll house in the living room. When the ambulance drivers came rushing into the house they stepped on my doll house and smashed it! My mother told me not to cry, that it was much more important to get the man to the hospital.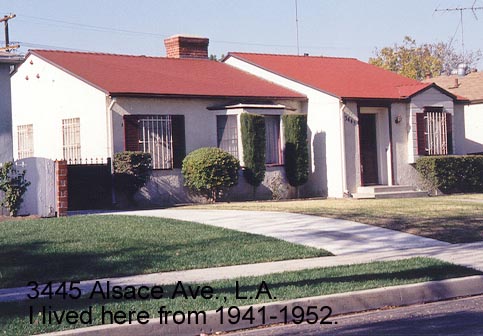 3445 Alsace ave., Los Angeles, Ca. (1941-1952). I spent much of my formative years in this house. It was located in a new housing development called Sunset Hills. My father had it built for the princely sum of $3800! It had two bedrooms, one bath, dinning room and a den that later became my bedroom. It had a two-car garage that was later converted into an apartment for my Aunt Harriet and Uncle John in about 1947. My earliest remembrances were when I went over to see it while under construction. I think I stepped on a nail or splinter and hurt myself. I remember December 7th, 1941. My parents took me to Olivera Street and I got sick on Mexican candy! My mother was in the shower when my father heard on the radio that the Japs had bombed Pearl Harbor. I did not know what that meant, but I knew from their reactions that it must have been important. I went through kindergarten and half of first grade at La Cienega Elementary School near Adams and La Brea (It is now gone). My first grade teacher was a Mrs. Johnson. She was mean. She used to lock children in the closet when they misbehaved. I completed the remainder of elementary school at the then new Baldwin Hills School. I went to Audubon Jr. High and had just started Dorsey High when we moved. In those days people knew their neighbors and the kids wandered all over the area. My favorite place to roam was the Baldwin Hills. I still have some photographs I took of the construction of the dam that broke about 16 years later in 1963. My sister Christine was born while we lived in this house and my father died there.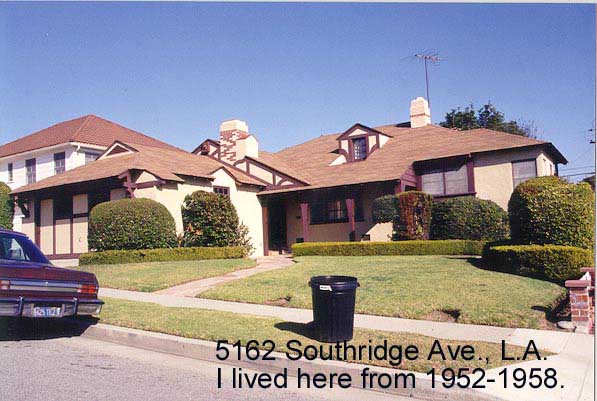 5162 Southridge ave., Los Angeles, Ca. (1952-1958). This was the last house that our family lived together in. My mother married Jim Coxswell in 1951/2 and subsequently moved into this house in Windsor Hills. This was my mother's dream house. It had three bedrooms, 2 baths a dinning room and a small house in the backyard which eventually became my bedroom, radio room and workshop. The marriage didn't last due to serious character flaws in Jim compounded by the fact that he was already married! Within a year or so after they moved into this house the marriage was annulled. Both Pat and I completed Dorsey High School while living here. I believe Christine completed Audubon Jr. High school also. Uncle Fritz lived with us for a while after his divorce from Nelva in about 1953-4. After our mother died in 1958, the house was sold and we three went are separate ways. I to live with a friend in El Segundo, Pat to Biola College and Christine to live with the Berkie's at Falling Springs Lodge about twenty miles above Azusa, Ca.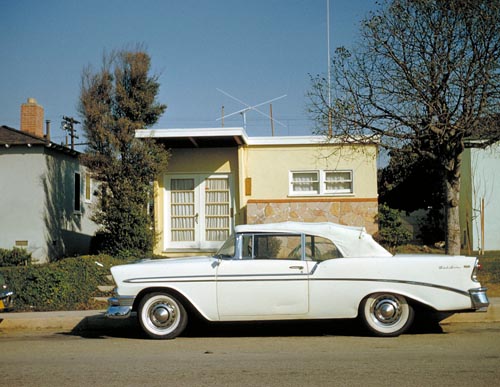 510 Standard Street, El Segundo, Ca (1958-1960). After my mother died in 1958 I moved in with my long time friend, Al Leiher. This was a small one bedroom house. I got the bedroom where I set up my ham radio station. The rent was $75 a month for which I paid half. I was working at Douglas Aircraft Company, El Segundo at the time but quit work to attend El Camino College in September 1959. Notice the ham radio vertical antenna on the roof. I left this house in June 1960 when I joined the Army. My 1956 Chevrolet convertible is parked in front. I sold it while I was in the Army, but I should have kept it as that model became a classic and is now worth a lot more than the $600 I sold it for! Note this house was completely rebuilt in recent years and is now two stories.
---
My email: dennis.goodno@gmail.com