---
Dennis Goodno's Obituary
---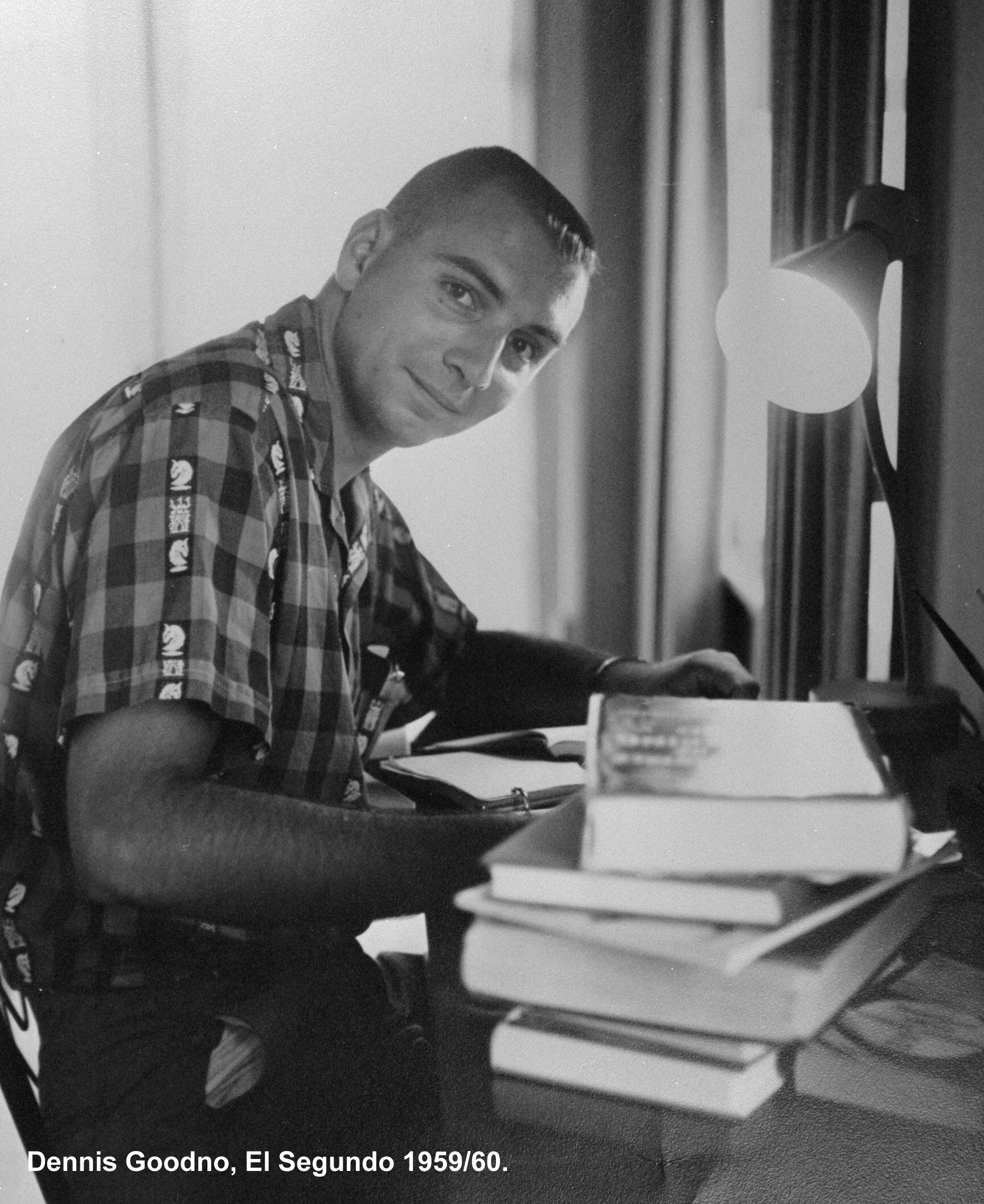 Dennis John Goodno, 79, passed away on January 15, 2017 in Los Angeles, California. He is survived by his wife of 35 years, Behnaz (Beth) Goodno; his daughters: Jaqueline Elizabeth Drumheller, Elizabeth Mariam Goodno, his stepdaughter Sherri Laleh Shabestari; his granddaughter Madeline Drumheller and stepgrandson Abdur Ramirez; and his sisters Patricia Wagner and Christine Meyer.
Dennis was born on April 15, 1937 in Los Angeles, California. Dennis, an avid history buff, would always say "April 15th is also income tax day, the day the Titanic sank and the day that Lincoln died."
Among his many talents, Dennis was a naturally gifted engineer from a very young age (he built an electric fence, a glider and his own photo darkroom while still in elementary school). As an Aerospace Engineer in his professional life, Dennis worked on programs of both national and scientific significance, specializing in the integration and testing of space vehicles such as Pioneer 10 (the first man-made object to travel beyond our solar system), Pioneer 11 and Chandra X-Ray Telescope. He was employed by TRW (now Northrop Grumman Space Technology) in Redondo Beach, California for about thirty-eight years, and retired from Northrop Grumman on September 1, 2004 while working on the ABL program at Edwards Air Force Base, California. He also worked with the European Space Agency in Rome, Italy from March 1985 to November 1986.
Prior to working at TRW, Dennis served in the United States Army as an Intercept Technician in Bad Aibling, Germany during the Cold War, after working in instrumentation at Douglas Aircraft in El Segundo, California.
Dennis was a man of many curiosities and interests – known to fully pursue and master his many hobbies. His spirit of exploration inspired a life full of fascinating experiences many people can only dream of; bringing so much joy not only to himself, but to his family and friends.
Dennis was a master photographer, pilot (he held a private pilot license), genealogist and amateur radio operator (K6AGU since 1953). He loved technology (always had the latest and greatest gadgets), history, marine biology, nature, maps, classical music, theatre and film, traveling, boating, motorcycles, bicycling, going for walks, camping and reading books (he was never without his Kindle). But most of all, Dennis was a thoughtful, loving father and husband who was always eager to lend his knowledge and practical know-how to help his family.
Dennis' active mind, curious disposition, and penchant for sharing his knowledge kept him busy after retirement, where he volunteered much of his time in several organizations and clubs throughout the years:
President and webmaster of Lancaster Photography Association (LPA)

Judge and member of the Southern California Council of Camera Clubs (S4C)

Photography student mentor in Antelope Valley and Cal State Dominguez Hills

Gifted youth photography teacher in Antelope Valley

Member of the Desert Camera Club

Webmaster at Omnilore

Docent at the Palm Springs Air Museum

Docent at Cabrillo Marine Aquarium in San Pedro

President of St. George, Utah co-op Artist Gallery
Dennis was admired by all who knew him for his good nature, grounded perspective, nimble jokes and deep knowledge on what seemed to be every subject. Dennis' full and diverse life left behind so many wonderful stories, photographs and memories for his family and friends to enjoy for the rest of their lives. He will be greatly missed and forever cherished by his loved ones.
---
Dennis' ashes will be placed at Inglewood Park Cemetery in Inglewood, California, where both of his parents (Robert and Marian Goodno), paternal grandparents (William and Vesta Marie Goodno), great aunt (Addie Snider Goodno) and great great grandmother (Emma Ray Goodno) are also resting. You can find Dennis' post at the cemetery's Shakespeare Garden, plot 5-12, in the section which reads the following quote from Shakespeare's Henry VIII:
"Like the lily, That once was mistress of the field and flourish'd, I'll hang my head and perish."
The Goodno family is hosting a celebration of Dennis' life in early April (Dennis would have been 80 years-old on April 15). Invitations will be sent out shortly, and you can also check back here for more details on the gathering, plus photos and videos to celebrate and remember Dennis.
---
My email: dennis.goodno@gmail.com