Roman Bohnen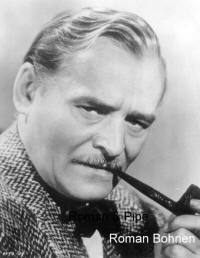 Click on photos to enlarge
NEW - Roman Bohnen's Photos . Provided by Marina (Button) Bohnen Pratt (Roman's daughter) and copied by Mark Mezadourian. Most of these photos are of Group Theatre people and their activities about 1935-41.
---
Roman Bohnen Links
---
Buddy was a founder of "The Actors Lab" in Hollywood in 1941 and chairman since 1943. He died of a heart attack during intermission while performing in the play "Distant Isle" (10 days after my father died). He was 47 years old.
---
Biographical Note
Actor Roman Bohnen, known as "Bud" to family, friends and colleagues, was born November 24, 1901 in St. Paul, Minnesota. His parents were Lottie Johnston and artist Carl Bohnen. He had two siblings, his older brother Arthur and younger sister Charlotte. Bohnen was educated in Munich, Germany, where his family lived from 1914-1917, and at the University of Minnesota where he was active in his fraternity, involved in drama club productions, and was such an outstanding cheerleader he earned the title "Rooter King". After working in stock for a couple of years, he joined Thomas Wood Stevens' newly formed repertory company at the Goodman Theatre in Chicago where he remained for five years playing over one thousand performances. He also taught make-up classes and created the First-Night Club, an audience subscription promotion.
In 1930 Bohnen headed for New York and married actress Hildur Ouse, whom he had met at the Goodman. He landed his first Broadway role in As Husbands Go by Rachel Crothers in 1931. In 1932, after working with the Group Theatre during their summer season in Dover Furnace, N. Y., he was chosen to replace Franchot Tone in the Group's production of Success Story. Bohnen joined the Group on a full-time basis in 1934 playing roles in Waiting for Lefty, Golden Boy, Awake and Sing, and The Gentle People, to name only a few. He was also a member of the Group's Actors' Council. Besides acting, Bohnen wrote plays. Incubator, which he co-wrote with John Lyman, was produced in 1932. His one-act $4.80 Top, later slightly revised under the title Four Forty, was produced at the Actor's Lab in the 1940's.
In 1937 Walter Wanger attempted to put together a motion picture deal with the Group which would form a resident company for movie production. His plans fell through but the possibility of film work brought Bohnen to Hollywood where he carved out a career as a character actor appearing in over thirty films including Of Mice and Men, The Song of Bernadette, The Best Years of Our Lives, and Edge of Darkness. While in Hollywood, Bohnen helped found and was the driving force behind the Actors' Laboratory Theatre. He was performing in the Lab production of A Distant Isle when he collapsed and died on February 24, 1949. His wife, Hildur, had died in 1941. They left behind one daughter, Marina, who was affectionately known as Button.
Source: Arthur Bohnen?
---
ROMAN BOHNEN, 47 DIES IN HOLLYWOOD
Stage and Screen Actor Who Played Top Roles Succumbs Between Acts of Show.
Special to the New York Times
HOLLYWOOD. Calif. Feb. 25
Roman Bohnen, stage and screen actor died last night of a heart attack between the acts of a Play, "Distant Isle," in which he was staring at the Actors Laboratory theatre here. He was 47 years old.
Born at St. Paul, Mr. Bohnen was educated at the Stadtelsche Handelschule in Munich and at the University of Minnesota where he received his B. A. degree in 1923. After experience in a theatrical stock company in St Paul and at the Goodman Theatre in Chicago, he made his Broadway debut in 1931 in "As Husbands go." From 1934 to 1940 he was a member of the Group Theatre, appearing in such plays as "Golden Boy," "Waiting for Lefty," "Awake and Sing" and "The Gentle People." His last Broadway appearance was in "Five Alarm Waltz" in 1941.
He came to Hollywood in 1937 for the film "Vogues of 1938." But his first Hollywood success was as Candy in the screen version of "Of Mice and Men", in 1939. In 1941 he began to devote himself almost exclusively to Hollywood, since that date having appeared in thirty-two pictures.
In January of this year Mr. Bohnen did a role for Columbia in the screen version of James Oliver Curwood's "Kazan" which is awaiting release. His other recent film engagements include roles in "Joan of Arc", "Arch of Triumph", "Song of Love," "Brute Force," Two Years Before the Mast," "The Best Years of Our Lives," "A Bell for Adano" and "The Song of Bernadette." He was known on the screen as an outstanding character actor and was co-author of a play. "Incubator," which was produced in 1932 on Broadway.

Mr. Bohnen was stricken last night at the Actors Laboratory Theatre shortly after the second act curtain and before which a fellow actor, Art Smith, had in the course of the dialogue said to him, "You'll probably be dead in two hours."
A meeting has been scheduled for next Wednesday night to launch a Roman Bohnen memorial fund to assist his Actors' Laboratory project which was founded In 1941. Mr. Bohnen had been a chairman of the project since 1943, having helped to found it.
Surviving are a daughter; Marina (Button), his father, Carl Bohnen, a portrait painter; a sister, Charotte Bohnen, with whom he lived in North Hollywood, and a bro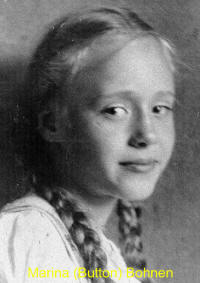 ther. Arthur Bohnen. His wife, Hildur Ourse, an actress died in 1941.


The New York Times, Saturday, February 26, 1949
---
Letter from Roman to his brother Arthur Bohnen, 1941/2 (shortly after Roman's wife died)
Dear Arthur:
Thanks for your Xmas letter.
I have had a good time here. I've kept myself systematically a bit drunk, and so have managed to get past that first appallingly "different" Xmas.
We had Xmas Dinner with Memo (Marian Goodno), and her husband at their newly built little house, their kids, Harriet and her new husband, John Ervin, a really remarkable young representative of a new generation,- Fritz and his new wife , the latter likewise a real dream of a young person,--and Uncle Al, who commands quite a lot of respect from me,- because he seems to still keep his philosophical 'bin' in high personal good order, like an excellent cat.
We talked a lot of the earlier days. All to the good. I happen to love that Meyer's Grove tradition- the madcap family, the whole historical situation,- the native love that went coursing through the veins of those ego centric Bohnens, at each others throats quite unselfconsciously like a healthy little wolf pack...One could say "with birth control there wouldn't have been quite such a big family", -but I could prefer that ignorance in a way, I mean I think I envy the blind daring that launches such a brood into the world,--- otherwise you are "saving your self" like an over trained athlete on the premise that your creative function in society is so god damn important that it mustn't get Bogged down by too much Domestic responsibility. I guess I'm not really prepared to defend my contribution to society on this basis. I think my blood and marrow is comparatively superior, In the long run it would probably have been most creative to launch a dozen 'ambassadors without portfolio' down into the corridors of time.
Your joke about getting you an actor's job, renewed a whole string of convictions I hold about the remarkable suitability of your particular endowments for solid success in this incredible industry. And I'm not joking.
Button, alas had an all too overwhelming Xmas. For example 10 dolls. (many people have transferred their deep feeling about Hildur (she died 7/10/1941) into doogaws for Marina this year. Its all perfectly normal., and I suppose to be expected.)
Miranda's package had the fortunate accidental privilege of late and highly dramatic "entrance". The little white doll with the zipper backbone is not only Button's favorite, but mine as well. And Miranda's hand sewn letter had big meaning for us, since Button- at school- is in the throes of writing "d-o-g." on the blackboard. Now here comes Miranda who can knock out a regular document- including the remarkable spelling of "deckeration".
Love Bud
My email: dennis.goodno@gmail.com